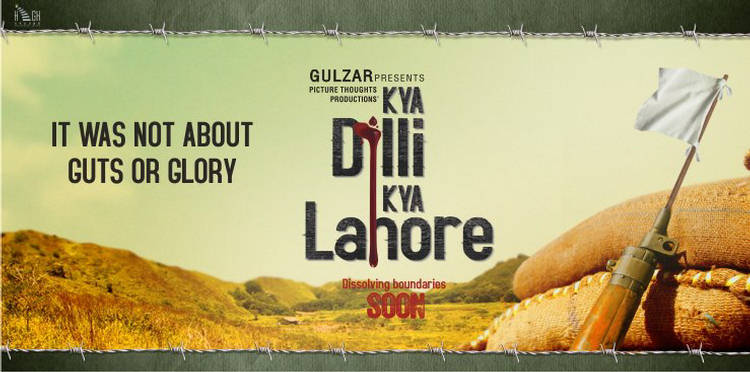 If a movie is being presented by none other than veteran Bollywood legendary Gulzar, it must not be taken lightly. Yes, that is true that it doesn't have sexy numbers or a theme, plot and story having young hero heroine, wearing short clothes, displaying body and attracting college goers with the help of its vulgar dialogues and songs.
But still a large mass of youth is serious towards good quality story, offbeat movie and thought provoking theme. That is where Kya Dilli Kya Lahore has an edge over its peer cinema released or is about to be released. The movie has been produced by Karan Arora under the banner of Picture Thoughts Production. Karan has earlier produced Bhindi Bazaar Inc. and has been co-producer of Tera Kya Hoga Johnny. Kya Dilli Kya Lahore has been released on May 2nd, 2014, presented by Gulzar, who is well acclaimed in Bollywood and is a recipient of Dadasaheb Phalke Award.
The story of Kya Dilli Kya Lahore is written by Aseem Arora and direction of this excellent movie is by Vijay Raaz. Characterization and presentation is good. The way characters build on their own with the help of story and time, is a good presentation and character building skill that has been used in the movie. Story of the movie revolves around Rehmat Ali who is a low cadre soldier in Pakistan Army, and a cook in Indian Army across the border, Samarth Pratap. Era reflected in the movie is of 1948. Both, Rehmat Ai and Samarth Pratap, posted on their respective borders, happen to encounter each other on various occasions and gradually their hatred and feeling to kill each other changes to friendship gradually.
Along with the story these two characters undergo a deep introspection and travel through their childhood. Samarth who was a resident of Lahore along with his family at the time of partition had moved to a refugee camp in Delhi whereas Rehmat who belonged to Delhi had to move to Pakistan at the same time. Then just after the interval we have a new character entering the storyline – an Army postman, Barfi Singh, played by Rajendranath Zutshi (popularly known as Raj Zutshi). Vijay Raaz himself has played the lead role of Rehmat Ali and Manu Rishi has played the role of Samarth Pratap. Lyrics/ Songs of the movie Kya Dilli Kya Lahore are by Gulzar. There is another interesting character in the movie – Pakistani Army Captain posted on the border – played by Vishwajeet Pradhan.
Overall Kya Dilli Kya Lahore is an interesting serious movie to watch with a fresh bunch of lead actors, good lyrics, dialogues that get good amount of applause and a unique style of thematic presentation of an introspecting and thought provoking story.